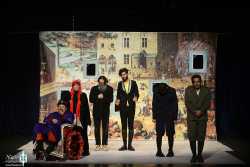 "Amraei" directs the play "Little Ruler" at the International Festival of Traditional and Ritual Theater. Dr. Majid Amraei, director and lecturer of the university and "drama therapist", is one of the directors who focused more on the drama theory.
The "small ruler" is a political, social, lively and spicy language that challenges political, social and cultural issues of its time and is written by "Amarai".
In this theater, Ehsan Maleki, as the first assistant, helps "Amraei". and performers: (Alphabet, respectively) "Zari Emad", "Shahin Alai nejad", "Saeed Abdollahi", "Faramarz Ghulich Khani", " Shahram Masoodi "," Meysam Yousefi " Executive Director: Zary amad Assistant Director: Niloofar Shokri Scene Designer: Ehsan Maleki Sound and music designer: Ali Sina Rezanya Designer: Cyrus Morad Tehrani Photographer: Nasrin Dehkadani Scene secretary: Nasrin Dehkedeni Planning Director: Ali Shahab Scene Manager: Amir Hossein Maleki Scene Assistant and Performance Decor: Mostafa Bassati Synopsis: The ruler of Khan (Little Khan) sits down, gives promises to the people, the Devanians whose duties are clear, but the people.